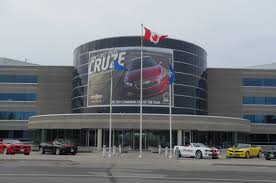 Oshawa has the very interesting history.
At one time it's nearby neighbor, Bowmanville, was approximately the same size. The introduction of Generals Motors drove the population to exceed that of Bowmanville in the following years.
Oshawa is approximately 60 kilometers from Toronto on the north shore of Lake Ontario. Its current population is roughly 150,000 residents. As previously mentioned the roots of Oshawa come from the automotive industry. Specifically General Motors.
In fact, the city motto was and I believe still is " The City the Motovates Canada".
Due to the aforementioned fact, Oshawa was a primarily blue collar town. Recently, the emphasis on the North American auto industry has suffered a bit and correlating factors have conspired to reduce the workforce at General Motors. This, in turn, has affected the demographics of the city.
The growth of Durham College has changed that. Oshawa is now considered a leading city in science and technology studies and industry. The city is home to other notable post-secondary institutions. Trent University Durham and University of Ontario Institute of Technology.
Oshawa has been the host to many notable movies as well. 54, Billy Madison, Chicago, and X-Men.
Historically Oshawa began as many Canadian cities as a fur trading outpost in the 1700's. Its harbor access was a factor in its usefulness in this industry at the time. Furs were loaded at the harbor and shipped in large canoes to the Credit River.
In the 1800's Oshawa had developed a salmon shipping industry started by Roger Conant. This attracted more people to the region. Many of those that came here were what are known as " Empire Loyalists"
Oshawa was incorporated in 1850. In 1876 Robert McLaughlin moved his carriage works plant to Oshawa from Enniskillen to take advantage of the harbor. This was the impetus for what later became the crown jewel of industry for Oshawa known as General Motors. Thus bringing this story full circle.