Hire an SEO Friendly Web Designer in Oshawa
For SEO in Oshawa see our Oshawa page
It's fine to have a beautiful website design.
Everyone desires that.
However, a beautiful website that is on page 6 for your top search term is beautiful to no-one because that is exactly how many people will be likely to see it.
Search Engine Optimization will change all of that.
Don't think SEO is a serious consideration?……… Check out this email headline from the worlds largest hosting company.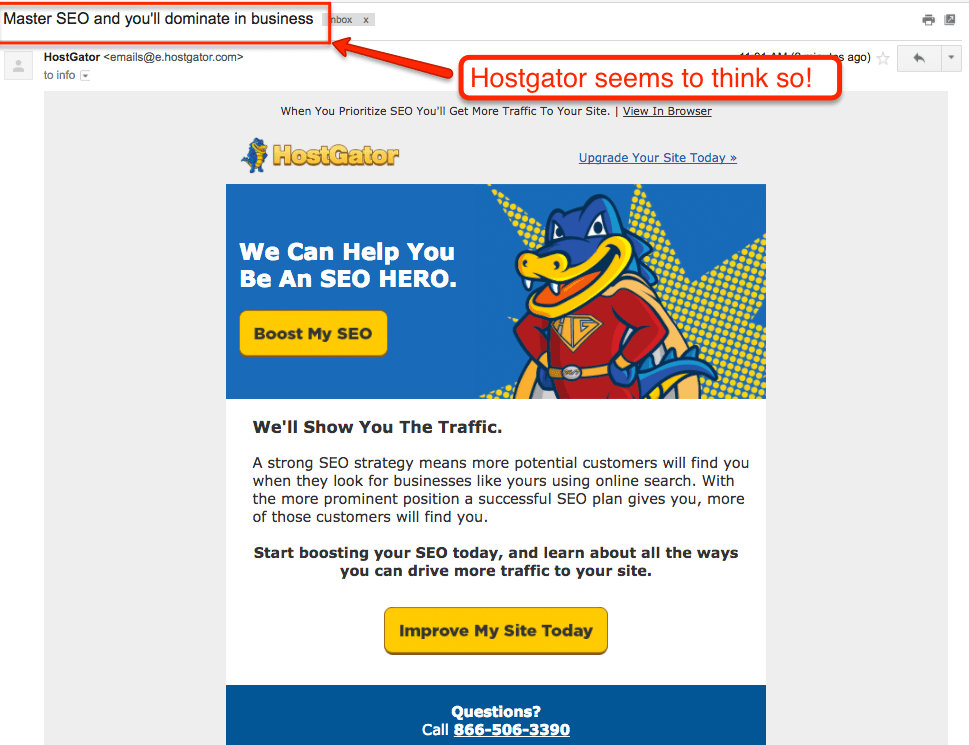 We suggest you hire an SEO company to either build the site for you or act as an advisor to the company you choose to have your website built by. 
Some Web Design Points to Consider for a Web Developer Oshawa
1) Most web designers do not take SEO very seriously. Nor do they know how to set up your SEO properly when they build the site. We see it all the time in our SEO Audits
2) That's why, as SEO experts we farm our web design contracts to a small handful of trusted web design pros.
368 Durham
Brian Rutherford @ 368durham.com is our primary choice. Click here to contact him.
3) These are not cheap overseas VA's but local web designers that we trust who can take direction on the advice that we give them from an Optimization standpoint. This way you get the best of both worlds. A great looking website, one that will actually be admired for its beauty by ranking for your top business search terms.
We Don't use Web Design Templates
4) We work hand in hand with our team of designers from day one so that when your website comes out of the gate it will stand a chance in the race online.
5) It's getting very competitive out there on the web now so you have to do everything you can to be seen when people search for terms related to your industry. It can no longer be left to chance. Far too many business owners are realizing that they must take an active approach to build trust in the Google search engine. That is why they hire SEO Pro's to make that happen.
6) If you are looking to build a brand new site or just give your current site an over-haul then consider letting an SEO professional take the lead and give you the best chance for that site to make you money by being seen on the first page of the search engines whenever anyone looks for you. After all….that's the reason to have a website in the first place …..right?
Web Design Oshawa considerations
Watch this short SEO / Website Design Video for more insight
Hire our sister web design Savannah company or our other local vendor https://wedeliverwebdesign.com/