Hire an SEO Freindly Web Designer in Oshawa
For SEO in Oshawa see our Oshawa page
It's fine to have a beautiful website. Everyone desires that.
However, a beautiful website that is on page 6 for your top search term is beautiful to no-one because that is exactly how many people will be likely to see it.
Search Engine Optimization will change all of that.
Don't think SEO is a serious consideration?

Check out this email headline from a major hosting company sent to me the other day!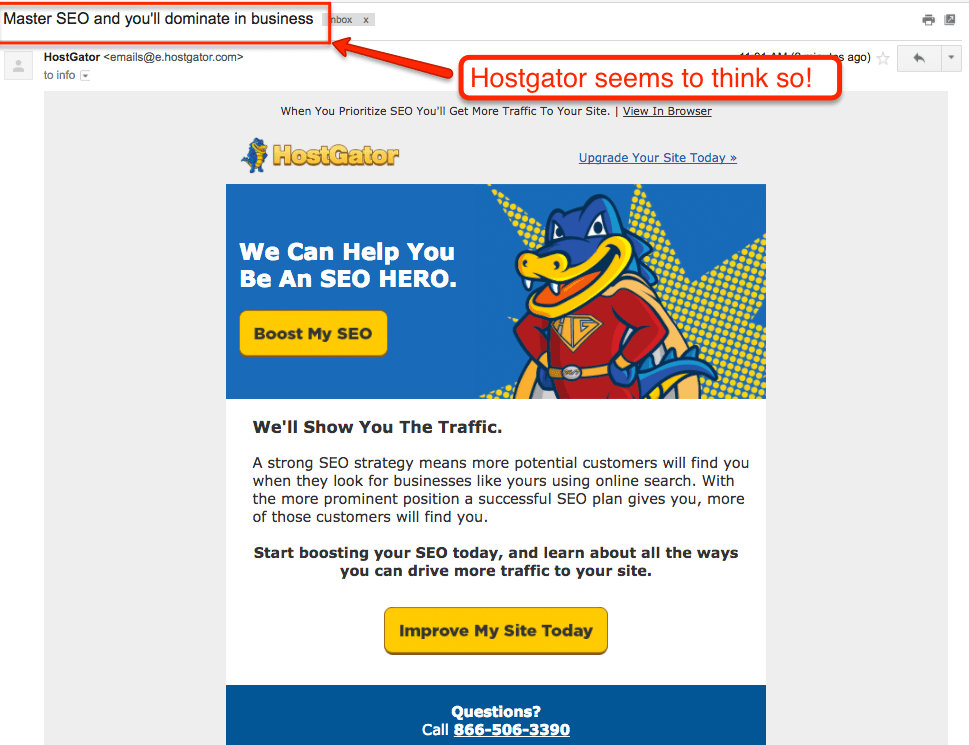 That's why we suggest you hire an SEO company to either build the site for you or act as an advisor to the company you choose to have your website built by. We recommend the latter less often for one simple reason. Conflict.
Most web designers do not take what SEO practitioners do very seriously in many cases. We are not sure why. What we do is very complimentary to the service they provide and we regard what web designers do with the highest esteem. We just believe people can specialize in more than one discipline and be top notch at both.
I guess that's why we don't take web design companies who claim to do SEO very seriously either.
That's why, as SEO experts we farm our web design contracts to a small handful of trusted web design pros. These are not cheap overseas VA's but local web designers that we trust who can take direction on the advice that we give them from an Optimization standpoint. This way you get the best of both worlds. A great looking website, one that will actually be admired for its beauty by ranking for your top business search terms. We work hand in hand with our team of designers from day one so that when your website comes out of the gate it will stand a chance in the race online.
It's getting very competitive out there on the web now so you have to do everything you can to be seen when people search for you. It can no longer be left to chance. Far too many business owners are realizing that they must take an active approach to building trust in the Goole search engine. That is why they hire SEO Pro's to make that happen.
If you are looking to build a brand new site or just give your current site an over-haul then consider letting an SEO professional take the lead and give you the best chance for that site to make you money by being seen on the fist page of the search engines whenever anyone looks for you. After all….that's the reason to have a website in the first place …..right?
Some Straight Talk About Search Engine Optimization
[icon type="thumbs-up"]As previously stated, SEO is not the answer for every business…..However.
[icon type="thumbs-up"]It is only possible to know by letting a Search Marketing Expert examine your situation
[icon type="thumbs-up"]Fill out the discovery form and find out
 

 

  WHAT IS SEO?

    Honestly , does any business person really care about the technical definition of,

or the strategies needed to implement an effective Search Engine Optimization campaign? If you do, then that's great, we can talk more about that.

    For now, let's talk about what it can achieve for your business!

[button type="real" shape="square" size="mini" href="https://greengenieseo.com/win-online-marketing/" title="Example"]click to learn more[/button]

WHAT CAN SEO DO FOR ME?

SEO, over a relatively short period of time, can help your website get to page one of Google. 90% of the clicks to websites come from visitors to Page 1 !
30% of those come from the first entry on page 1

[button type="real" shape="square" size="mini" href="https://greengenieseo.com/what-can-seo-do-for-me/" title="Example"]click to learn more[/button]

WHAT IF I AM ALREADY ON PAGE 1?

That's great. But for what keyword(s)?




You could very well be ranking on page 1 for your name but that is a given. You need to rank for the more competitive keywords because they are the words and phrases that people are, by nature, typing into Google to find a product or service such as yours.

[button type="real" shape="square" size="mini" href="#example" title="Example"]click to learn more[/button]

TELL ME MORE ABOUT KEYWORDS

Keywords are like individual phonebooks. In the tradition phone

book

you had a ranking based on your name. With a company name like "AAAAA

Abattoir

" you would likely be the first listing on page 1. "

Zekes

Slaughter-house" would be much harder to find! Keywords have far

less

limitations.

[button type="real" shape="square" size="mini" href="#example" title="Example"]click to learn more[/button]

FEWER LIMITATIONS…HOW?

Let's say you were a hypnotherapist. People may type in "hypnotherapist" to seek you out. The results for that search would constitute a virtual phonebook that Google would assemble for the searcher.




But "hypnotherapist in Phoenix" or "hypnotist" or "hypnotherapy for smoking" would create their own individual "Virtual Phonebook" pages with very different results for those doing the search!

[button type="real" shape="square" size="mini" href="#example" title="Example"]click to learn more[/button]

OK SO HOW DOES THIS CONVERT TO $$$?

Simple…. People search…. You show up in that search on page 1…. People contact you. …More contacts + more sales = "GET THE GREEN $$$"




BUT…..You need to show up on page 1…and not just for one keyword

[button type="real" shape="square" size="mini" href="#example" title="Example"]click to learn more[/button]

HOW MANY KEYWORDS SHOULD I RANK FOR?

That depends on your budget, your type of business, your personal objectives and many other factors.




There could be just a few keywords that make all the difference to your situation and there could be hun

dred

[button type="real" shape="square" size="mini" href="#example" title="Example"]click to learn more[/button]

IS SEO MY ONLY OPTION TO SHOW UP ON PAGE 1?

No , you could pay for ads that may or may not put you on page one all of the time. It depends on the competition for keywords again. If your competitors are paying a higher price per click you fall lower in the rotation on page 1.




The costs can get very high in competitive markets.

[button type="real" shape="square" size="mini" href="#example" title="Example"]click to learn more[/button]

HOW HIGH CAN ADWORDS COSTS GET?

Depends on how high of a budget you have.




I know a plumbing company that spends $70,000 per month!




It's possible that a strong SEO campaign could achieve similar results for a fraction of the cost with more sustainable results!

[button type="real" shape="square" size="mini" href="#example" title="Example"]click to learn more[/button]
Fill out the Discovery form
<p style=\"background-color:#000;color:#fff;\">Please take the time to fill out the Discovery Form and tell us about your business</p>
<p style=\"background-color:#000;color:#fff;\">It may be the most valuable 5 minute you ever spend!</p>
<p style=\"background-color:#000;color:#fff;\">All the best to your future (:</p>